Have you ever experienced the frustration of having a bike stolen, or even bought a bike which unknown to you was stolen. Well here at Total MX we have decided enough is enough. There has never been a good way of checking or reporting your bike stolen unitll now. If you have a frame, engine, reg, datatag/transponder number you can type it into the box below and check it against our database of 100ís of reported stolen bikes.
This is a free service that will help to stop thieves being able to sell on bikes to innocent bystanders and by making it harder for them they may think twice about stealing our bikes in the first place.
If you have ever had a bike stolen report it to us now and we will add it to our database, which may help to have it returned.
Any bike matched as being stolen using this service has the chance of a reward for the return of the stolen bike. So remember, if you hear or come across a bike that you suspect is stolen, please perform a search on our database. Click here to view recent stolen bike entries!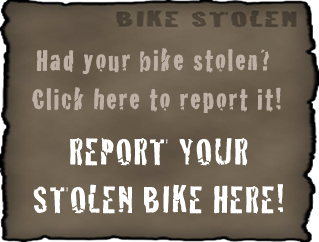 Entry 1 of 1
| | |
| --- | --- |
| Date & Time of theft: | 10/01/2012 |
| Location of theft: | WORLE WESTON-SUPER-MARE |
| Vehicle Type: | OFFROAD |
| Vehicle Make: | KTM |
| Model: | SX85 SMALL WHEELED |
| Registration: | - |
| Year: | 2009 |
| Frame/Chasis number: | VBKMXA23X9M051956 |
| Engine Number: | - |
| Security Number (Datatag etc): | - |
Other information about the theft:

PLEASE HELP TO RETURN A LITTLE BOYS PRIDE AND JOY BACK TO HIM. STOLEN ON TUESDAY 10TH JANUARY 2012 AT 6AM FROM OUR GARAGE! THIS ORANGE KTM SX85 IS VERY DISTIINCTIVE AS IT HAS A ALLOY PETROL TANK, NEW CHAINS AND SPROCKET, LEFT GRIP MISSING, GREEN RADIATOR HOSE, STICKERS OVER MUD GUARDS, NO-4, PLEASE IF YOU KNOW OR SEE ANYTHING PLEASE REPORT IT TO SOMEONE AT ANY TIME.
KTM 525 EXC Racing 2005
Location: Rendlesham Woodbridge Suffolk
Reward for return: Will reward if returned in good running order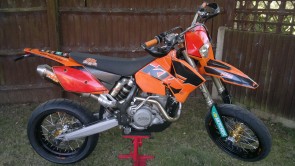 kawazki kx250 1991
Location: back of garden 82 mavis road
Reward for return: yes
Green kx250 91 model all new plastics with senge skull & piston graphics painted black tank and frame gaurds blue forks gold back sprocket bike looks minted have just put ...
read more....