Have you ever experienced the frustration of having a bike stolen, or even bought a bike which unknown to you was stolen. Well here at Total MX we have decided enough is enough. There has never been a good way of checking or reporting your bike stolen unitll now. If you have a frame, engine, reg, datatag/transponder number you can type it into the box below and check it against our database of 100ís of reported stolen bikes.
This is a free service that will help to stop thieves being able to sell on bikes to innocent bystanders and by making it harder for them they may think twice about stealing our bikes in the first place.
If you have ever had a bike stolen report it to us now and we will add it to our database, which may help to have it returned.
Any bike matched as being stolen using this service has the chance of a reward for the return of the stolen bike. So remember, if you hear or come across a bike that you suspect is stolen, please perform a search on our database. Click here to view recent stolen bike entries!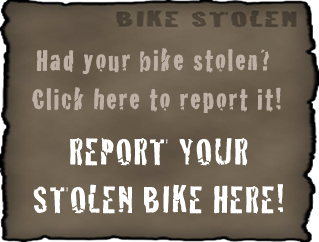 Entry 1 of 1
| | |
| --- | --- |
| Date & Time of theft: | 14/01/2016 |
| Location of theft: | Redditch |
| Vehicle Type: | Offroad |
| Vehicle Make: | Honda |
| Model: | Crf250 |
| Registration: | - |
| Year: | 2004/2005 |
| Frame/Chasis number: | JH2ME10A84KO11536 |
| Engine Number: | ME10E2105370 |
| Security Number (Datatag etc): | - |
Other information about the theft:

Unique looking bike, white plastics, red number boards and blue seat. Twin pipe exhaust system. Weld repair to front of right side middle crank cover but not visible unless looked for. It was wheeled away as was not running due to jetting problem. Any information will be treated in confidence. Thank you for reading this.
Yamaha TDR 125 1987
Location: Crawley, W.Sx
Reward for return: YES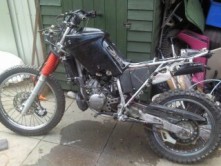 This was a 'rosso' an italian import. seat wasn't on the bike, the starter motor was removed ready to fit new starter chain, and radiator was damaged but repaired with ...
read more....
Honda CR 2003
Location: Iver, buckinghamshire
Reward for return: £200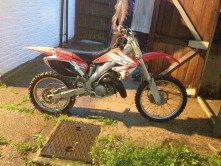 This bike and two other offroad bikes stolen in iver, buckinghamshire. the cr 125 in the picture and a crf 100 2004 and also a crf 70 with a stomp 125 engine. if seen pl...
read more....