Have you ever experienced the frustration of having a bike stolen, or even bought a bike which unknown to you was stolen. Well here at Total MX we have decided enough is enough. There has never been a good way of checking or reporting your bike stolen unitll now. If you have a frame, engine, reg, datatag/transponder number you can type it into the box below and check it against our database of 100ís of reported stolen bikes.
This is a free service that will help to stop thieves being able to sell on bikes to innocent bystanders and by making it harder for them they may think twice about stealing our bikes in the first place.
If you have ever had a bike stolen report it to us now and we will add it to our database, which may help to have it returned.
Any bike matched as being stolen using this service has the chance of a reward for the return of the stolen bike. So remember, if you hear or come across a bike that you suspect is stolen, please perform a search on our database. Click here to view recent stolen bike entries!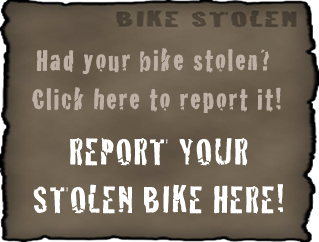 Entry 1 of 1
| | |
| --- | --- |
| Date & Time of theft: | AUG 2015 |
| Location of theft: | CARTMEL |
| Vehicle Type: | OFFROAD |
| Vehicle Make: | HONDA |
| Model: | CR250 |
| Registration: | - |
| Year: | 1989 |
| Frame/Chasis number: | - |
| Engine Number: | - |
| Security Number (Datatag etc): | - |
Other information about the theft:

Bike was stolen while in parts, so hadnt wrote any of the new numbers down.

Was a none runner !!!

Had no back wheel on. All the new parts where stolen even plastics, stickers, new exhaust., even the nuts and bolts from this specific bike where taken. Old Carburettor in box out of sight behind other boxes? Basically everything for this bike that there sticky fingers could load up and new there bike parts very well.

Certain places on bike i would no my own work and cannot be hidden or changed even with respray. Have hundreds of pictures of every part of rebuild and would spot it a mile off.

Was probaly stolen to order, as several other bikes in same workshop being fixed ect had not been touched, apart from moving them out the way so could carry bike out leaving several very expensive bikes behind & even stepping over tools worth more than all the bikes together ??

Will give reward if found and returned home.
ktm exc 250 six days 2009
Location: llanfyllin, powys, mid wales
Reward for return: £500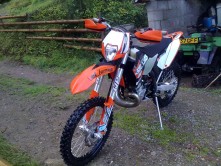 1 of 2 ktms stolen from my garage reward for return of bike...
read more....
suzuki rm250 1998
Location: hedon nr hull
Reward for return: 300 for returned bike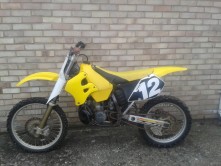 My bike was stolen in hedon nr hull at aprox 4.30am last thursday morning, from a locked garage the bike is thought to have been heard starting about 500 yds from house so was...
read more....